Nicolaus Associates Website Search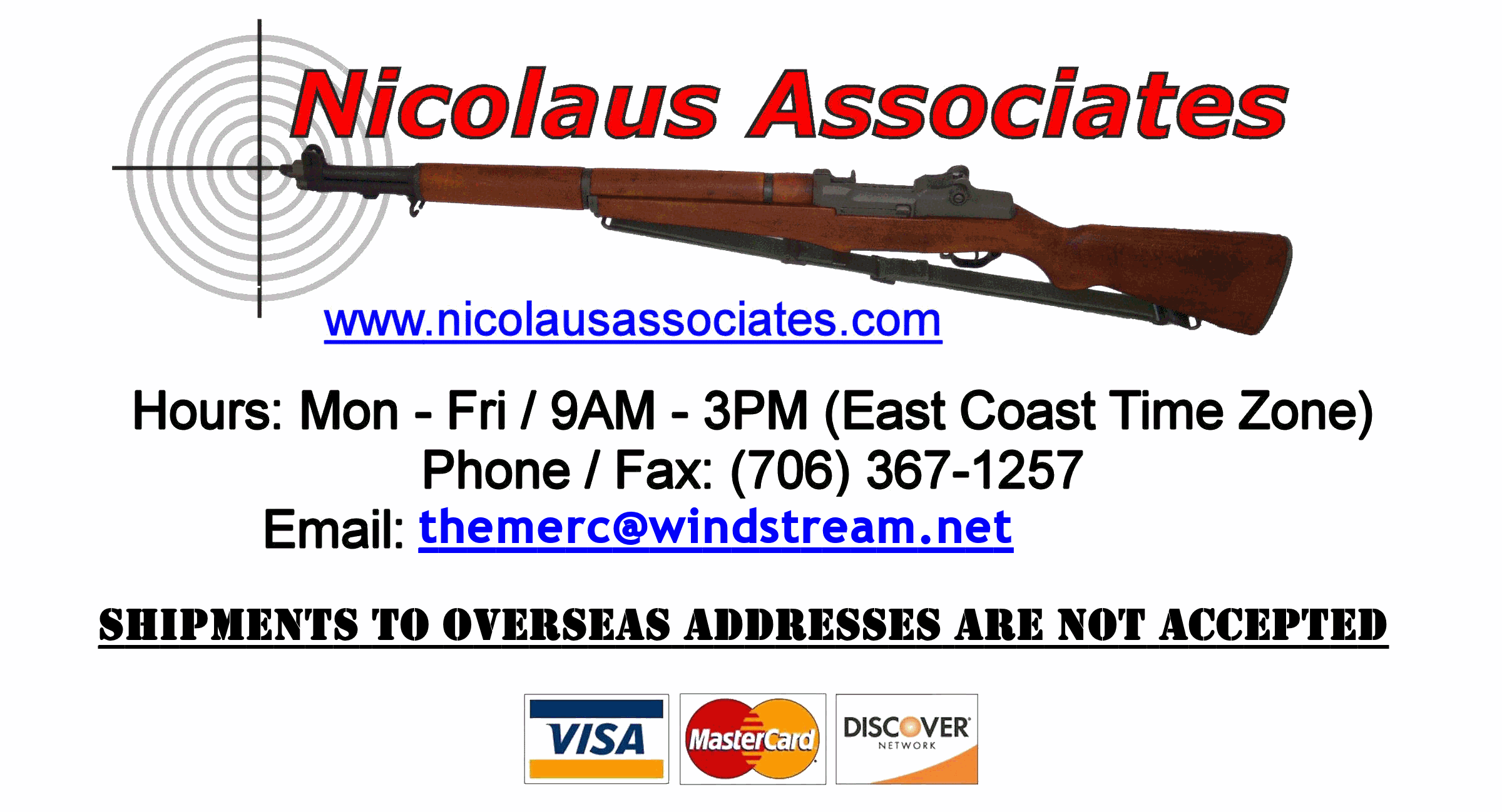 To Use Any of these credit cards, choose CHECK OUT WITH PAYPAL at the payment screen!
Nicolaus Associates no longer accepts orders from outside the 50 U.S. states - this includes no FPO / APO orders. All orders must ship within the fifty U.S. states.
---
Nicolaus Associates Latest Deals and Products: https://nicolausassociates.blogspot.com/
---
Description
Search for small arms tech info: tech manuals, field manuals, graphic training aids (GTAs), posters, prints, lithographs, blueprints, art, and more.
---
Website Search Engine! This allows you to actually "search" through this website and looking for items you are specifically interested in. This website makes available the diagrams, graphic training aids (GTAs), technical manuals, field manuals, art, posters, lithographs, blueprints, and much more which form the parts of the M1 Garand, M1C sniper's, M1D sniper's, gas trap garand, M14 RIFLE, M14 National Match RIFLE, m21 sniper's, 1903 springfield, 1903a1 springfield, 1903a3 springfield, 1903a4 sniper's, 1911 PISTOL, 1911a1 PISTOL, 45 CALIBER PISTOL, COLT 45 PISTOL, m1 carbine, m2 carbine, m3 carbine, 1917 enfield, B.A.R. (BROWNING AUTOMATIC RIFLE), M2 machinegun, MILITARY SHOTGUNS, M9 PISTOL, M16 RIFLE, PS MAGAZINES, FAL, and other Army and U.S. military small arms information made by Colt, Winchester, Springfield Armory, Enfield, Remington, etc. U.S. Army, military rifle, pistol, shotgun, machinegun, and revolver information is being added constantly. The cost is intended to be reasonable, to allow this author/editor/publisher to be able to support his family and continue researching 20th Century U.S. military small arms, firearms, and militaria. If you don't see what you're looking for here, simply call or e-mail me at my home-office. The telephone and e-mail address is: (706) 367-1257 or themerc@nicolausassociates.com.
---
Click Below to "View Cart" or "Check Out"
---
---