Military Small Arms - Garand, M14, Carbine, M1911, M1917, M1903, M16, Etc.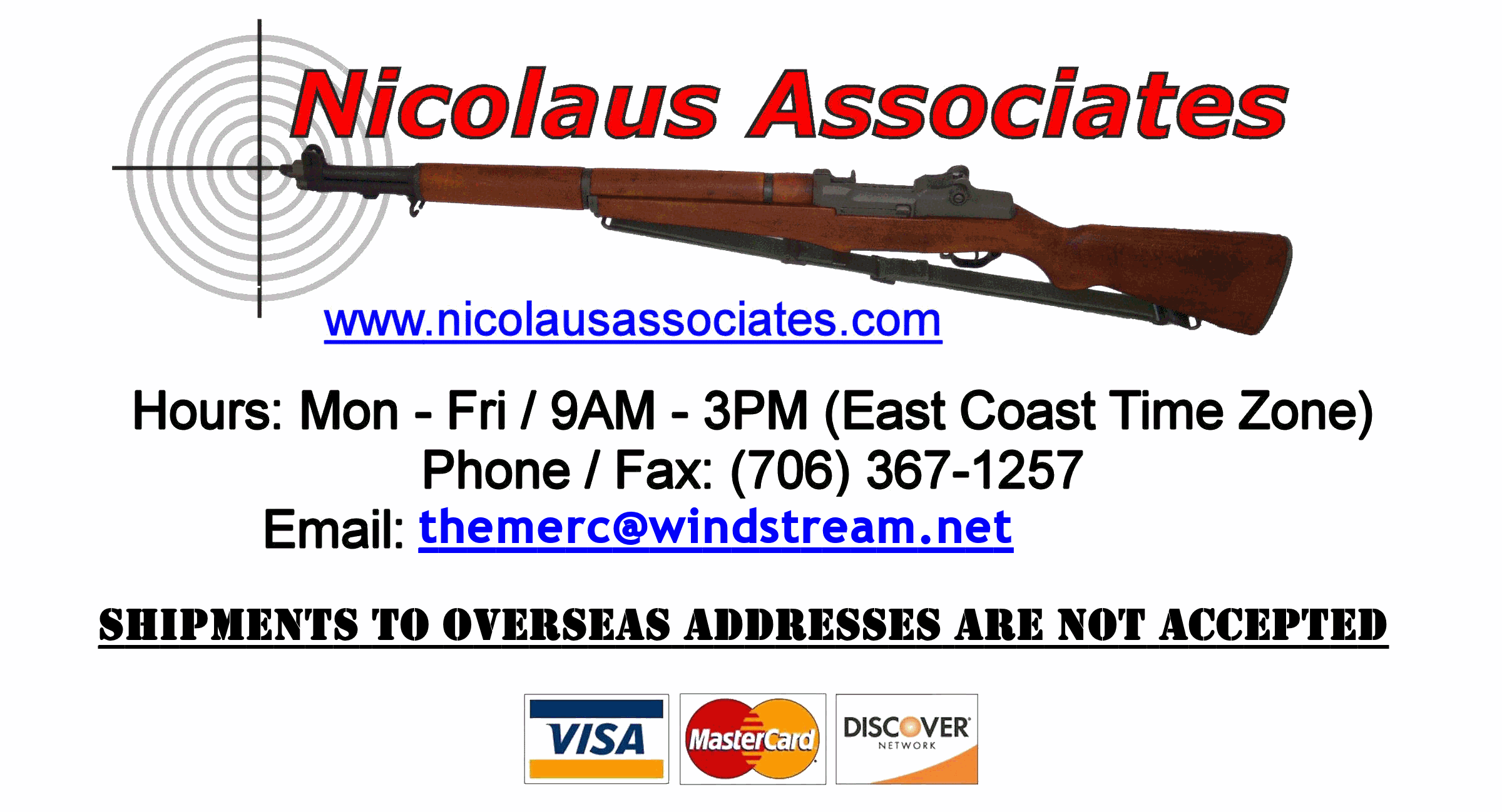 To Use Any of these credit cards, choose CHECK OUT WITH PAYPAL at the payment screen!
Nicolaus Associates no longer accepts orders from outside the 50 U.S. states - this includes no FPO / APO orders. All orders must ship within the fifty U.S. states.
---
Description
Publicly available clearinghouse for U.S. military small arms technical information, and militaria, including: diagrams, technical manuals, field manuals, graphic training aids (GTAs), posters, prints, PS magazines, lithographs, blueprints, art, militaria, and other related information.
Nicolaus Associates Latest Deals and Products: https://nicolausassociates.blogspot.com/
---
Purpose
This website makes available the diagrams, graphic training aids (GTAs), technical manuals, field manuals, art, posters, lithographs, blueprints, and much more which form the parts of the M1 Garand, M1C sniper's, M1D sniper's, gas trap garand, M14 RIFLE, M14 National Match RIFLE, m21 sniper's, 1903 springfield, 1903a1 springfield, 1903a3 springfield, 1903a4 sniper's, 1911 PISTOL, 1911a1 PISTOL, 45 CALIBER PISTOL, COLT 45 PISTOL, m1 carbine, m2 carbine, m3 carbine, 1917 enfield, B.A.R. (BROWNING AUTOMATIC RIFLE), M2 machinegun, MILITARY SHOTGUNS, M9 PISTOL, M16 RIFLE, PS MAGAZINES, FAL, and other Army and U.S. military small arms information made by Colt, Winchester, Springfield Armory, Enfield, Remington, etc. U.S. Army, military rifle, pistol, shotgun, machinegun, and revolver information is being added constantly. The cost is intended to be reasonable, to allow this author/editor/publisher to be able to support his family and continue researching 20th Century U.S. military small arms, firearms, and militaria. If you don't see what you're looking for here, simply call or e-mail me at my home-office. The telephone and e-mail address is: (706) 367-1257 or themerc@nicolausassociates.com.
---
Credit Card & Other Types Of Orders
To use VISA, MasterCard, or Discover, choose CHECK OUT WITH PAYPAL at the payment screen!
---
Contact Information
See the attached web pages for information, purchasing, and several free downloads of blueprints, diagrams, technical manuals, and the author/editor's books. See below to contact the author/editor.
Business Hours
Monday through Friday (5 days a week), 1000 - 1400 EST. No answer at my work telephone? Call my work cellular or email me! The best method to reach me is to email me at: themerc@nicolausassociates.com! I will get back ASAP! I have been known to work often on many Saturdays and Sundays. I recommend you e-mail me on the weekends. Keep in mind that I am a "one man band" - it pays to e-mail or call me on my cellular if no answer on my work phone!
Work Telephone (Leave Name, Number, and Other Pertinent Info on Answering Machine If No Answer)
Work Fax (24/7 Automatic Detection of Incoming Faxes or Voice Calls)
706-367-1257
Home Telephone (When All Above Fail)
Postal (mailing) address
P.O. Box 875, Jefferson, Georgia 30549-0875
Physical (UPS, FedEx, Etc.) address
144 Thornhill Circle, The Preserve at Jefferson, Jefferson, Georgia 30549
Electronic mail
General Information: info@nicolausassociates.com
Sales: info@nicolausassociates.com
Webmaster: themerc@nicolausassociates.com
---
"Document Restoration"
"Document Restoration" is a tedious and time-consuming process. Nicolaus Associates has spent hundreds of hours (actually, well over one thousand hours) restoring military firearms document copies (blueprints, instructions, booklets, etc.) as close to original as possible. This effort has been noticed by website surfers who have requested quotes on firearms & non-firearms document restoration. If you would like to have Nicolaus Associates potentially "restore" any documents, please contact the owner, Eric A. Nicolaus, at the below email address or telephone number. Please note that I "restore" a copy of your original document - I do not restore the original document itself.
---
Privacy Policy for Nicolaus Associates --- Our postal address, physical address, e-mail, telephone, and fax numbers are all listed above. Please feel free to contact us concerning any question you may have concerning our website, business, or orders you have placed. Absolutely no personal information is gathered regarding your domain or e-mail address. We do not set any cookies. Persons who supply us with their telephone numbers, mailing or physical addresses, or e-mail will only receive telephone or written contacts from us with information regarding orders they have placed on-line. Nicolaus Associates does not partner with or have special relationships with any ad server companies.

Product Return Policy for Nicolaus Associates --- If you do not like the product, simply return the product in the condition received for a full refund (not including original shipping charges) within 3 business days of receipt. Please include a note as to the reason for returning the product.

Shipments In and Outside the Continental United States --- Nicolaus Associates charges a flat rate fee of $10.50 for shipping orders within the continental United States. If you order one book requiring one shipment or 10 books and three posters requiring three separate packages you pay $10.50 for shipping total. Orders outside of the United States are not accepted. Orders over $150.00 per shipped package are automatically insured for their full value at no additional charge.

Nicolaus Associates / Who We Are --- I am a sole proprietor, retired military officer, disabled veteran, and a veteran of the Arab/Persian Gulf Wars. I served on active duty in the United States Coast Guard from 1978 through 2003 - 25+ years. From 1999 through 2001 I served 'in theater' as Maritime Liaison and Maritime Advisor to Commander, U.S. Naval Forces Central Command (COMUSNAVCENT) and the U.S. Navy's 5th Fleet in the Arabian/Persian Gulf. I am an author, editor, and publisher of military manuals and books that define small arms used by U.S. military forces in the 20th Century.
---
A Final Note --- Don't forget about my other website, which serves as a clearinghouse for Coast Guard "ancient" militaria, including: cool posters, coffee mugs, and pictures from a bygone era. Visit my website at: https://www.CoastGuardCoolStuff.com.
---
Click Below to "View Cart" or "Check Out"
---
---